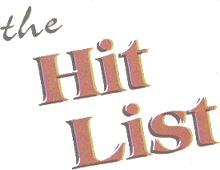 Ever wince as a fellow patron tortured the crowd with a particularly un-Garth Brooks-like version of "Friends In Low Places?"
Ever hear someone destroy an Elvis Presley tune or mangle a song by Frank Sinatra.
OK, so not all karaoke singers are lousy. And who really cares anyway?
Whether a singer is talented or not, karaoke guru Paul Loeber of Karaoke Super Stars tells us there are certain songs that people of all talent levels prefer to croon.
Below are the most requested songs Loeber hears. See page 8-D for a complete list of his top 20.
For more karaoke information, visit www.karaokesuperstars.com.
1. "I Got You Babe"
Sonny & Cher
2. "Love Shack"
B-52's
3. 'Margaritaville"
Jimmy Buffett
4. "Friends In Low Places"
Garth Brooks
5. "Summer Nights"
Olivia Newton-John & John Travolta