Published 2/14/2002
Karaoke lets wannabe warblers take the spotlight


By Sarah Schmid
Lansing State Journal

During the opening scene in the movie "Duets," a virtually unwatchable turkey of a film starring Gwyneth Paltrow and Huey Lewis, Lewis is sitting in an Oklahoma karaoke bar downing whiskey. A man who has just sung onstage saunters up to where Lewis is sitting and asks the bartender - visibly awed by his performance - for a victory drink.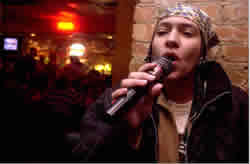 Monique Blackman sings the Alicia Keys song "A Woman's Worth" at a recent karaoke night at LeRoy's Classic Bar and Grill.
Advertisement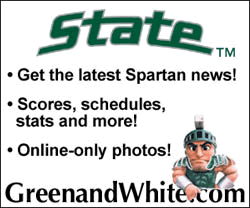 Top 25 songs
1. "I Got You Babe," Sonny & Cher

2. "Love Shack," The B-52's

3. "Margaritaville," Jimmy Buffett

4. "Friends in Low Places," Garth Brooks

5. "Summer Nights," Olivia Newton-John and John Travolta

6. "Turn the Page," Bob Seger

7. "Crazy," Patsy Cline

8. "Family Tradition," Hank Williams Jr.

9. "God Bless The U.S.A.," Lee Greenwood

10. "Mountain Music," Alabama

11. "My Way," Frank Sinatra

12. "Black Velvet," Alannah Miles

13. "Baby Got Back," Sir Mix-A-Lot

14. "Brown Eyed Girl," Van Morrison

15. "Oh Darlin', " The Beatles

16. "The Dance," Garth Brooks

17. "Just a Gigolo," David Lee Roth

18. "I Will Survive," Gloria Gaynor

19. "After the Lovin', " Engelbert Humperdinck

20. "Grandpa," The Judds

21. "One in a Million You," Larry Graham

22. "Can't Help Falling in Love," Elvis Presley

23. "House of the Rising Sun," The Animals

24. "I'm the Only One," Melissa Etheridge

25. "You Oughta Know," Alanis Morissette

Karaoke hot spots

LANSING

Colonial Bar & Grille, 882-6132, 3425 S. Martin Luther King Jr. Blvd.: 9 p.m.-1:30 a.m. Tuesdays-Wednesdays.

Irish Pub, 482-3916, 1910 W. Saginaw St.: 9 p.m.-1 a.m. Saturdays.

LeRoy's Bar and Grill, 482-0184, 1526 S. Cedar St.: 9:30 p.m.-close Mondays, Wednesdays, Thursdays, Fridays and Sundays.

Midori Sushi & Korean BBQ, 323-7991, 436 Elmwood Road: 10 p.m.-2 a.m. Fridays and Saturday

Nuthouse Grill, 484-6887, 420 E. Michigan Ave.: 9 p.m.-1 a.m. Tuesdays.

Oade's, 323-9050, 936 Elmwood Road, 9 p.m.-1 p.m. Saturdays.

Paradise, 484-2399, 224 S. Washington, 8 p.m.-close Wednesdays.

Players Club, 882-0226, 5141 S. Martin Luther King Jr. Blvd.: 9 p.m.-2 a.m. Fridays and 9 p.m.-11:30 p.m. Sundays.

Point After, 882-4870, 3015 S. Martin Luther King Jr. Blvd.: 9 p.m.-12:30 a.m. Wednesdays.

Sammy's Lounge, 394-3447, 301 E. Jolly Road: 8 p.m.-close Tuesdays and Thursdays, 9 p.m.-close Saturdays.

Westgate Tavern, 323-9170, 623 N. Rosemary St.: 9:30 p.m.-1:30 a.m. Saturdays.

EAST LANSING

Crunchy's, 351-2506, 254 W. Grand River Ave.: 9 p.m.-close Thursdays, Fridays and Saturdays.

Marvelanes & Lounge, 337-7000, 2120 M-78: 9 p.m.-12:30 a.m. Wednesdays.

Rick's American Cafe, 351-2285, 224 Abbott Road: 10 p.m.- close Sundays.

DIMONDALE

Bridge Street Pub, 646-9188, 117 S. Bridge St., 8:30 p.m.-close Wednesdays, 9:30 p.m.-close Fridays and Saturdays.


"You people do this every night?" Lewis asks, sneering.

"Karaoke - it's a way of life," the man answers righteously.

The two then proceed to bet hundreds of dollars on which of them can sing better. Lewis, whose character is actually a gravelly voiced hustler only feigning karaoke ignorance, takes his place on the stage and gives a professional-grade performance, whipping the audience into a synchronized-clapping frenzy. At the song's climax, he jumps off the stage and into the crowd, which is full of swooning women who practically shed their garments on the spot.

For those who are as ignorant of the karaoke world as Lewis pretends to be in "Duets," it seems like pretty heady stuff.

" 'Duets' is one of the worst movies ever made," says Peter Parker, the publisher of Southern California's Karaoke Scene magazine. "It's an insult. It bears no resemblance to real-life karaoke. The whole thing is preposterous."

If anyone should know, it's Parker. Formerly a professional singer and jingle-writer, he's been in charge of the bi-monthly magazine with a circulation of 30,000 for almost two years.

Karaoke, Parker says, is a barrier-busting way for people to socially interact. Most don't do it for money, but for the feeling they get from being in the limelight and the gratification - however fleeting - of audience adulation.

Paul Loeber, owner of Karaoke Super Stars, a company based in Wayne County, agrees.

"There is definitely a karaoke subculture," he says. "They go to karaoke bars at least once a week, and they generally go to the same bar and sing the same songs. It gives them an outlet to get up in public."

Indeed, the scene on a recent Friday night at Crunchy's Bar in East Lansing - which hosts karaoke every weekend - seemed nothing like the dopey, hotel-lounge netherworld portrayed in "Duets."

Melvin Gordon, a self-described ham, acts as Crunchy's KJ, or karaoke jockey. As the bartender poured one 24-ounce Long Island iced tea after another, Gordon put the audience in the mood by singing the theme song to "Cheers."

Though the first few people called to take their turn at the microphone were no-shows - one guy ducked into the restroom to avoid singing - it didn't take the bar's college crowd long to loosen up.

A quartet of co-eds warbled a tentative "I Will Survive," which Gordon says is his most-requested song. Next, a woman tried Pat Benatar's "Hit Me With Your Best Shot" on her own. A group of young men who appeared to be feeling no pain offered a rowdy version of Bon Jovi's "Living on a Prayer," complete with rock-star poses for the benefit of the increasingly hyper crowd.

And then, the floodgates opened.

Patrons feverishly wrote down their song requests and cheerfully argued with their singing partners about which songs to sing. Those who weren't onstage were singing along and bouncing around in their seats. By the time the clock hit 11 p.m., the atmosphere was downright convivial. People took the stage with arms slung around one another's shoulders and belted out songs with everything they had.

And that, says Parker, is the essence of karaoke.

"It's the people's music," he explains. "Anyone can do it. It brings people together in the spirit of camaraderie. And when you're up there, you're it. It's your time in the spotlight."

On any given night in the Lansing area, there is at least one bar hosting karaoke. LeRoy's, 1526 S. Cedar St., has it every night except Tuesdays and Saturdays. Local thrill-seekers can strut their stuff on anything from a humble raised platform to the large, theatrically lit stage at Paradise, a nightclub on South Washington Avenue offering karaoke on Wednesdays.

Though the atmosphere and clientele in karaoke bars may differ, the way one obtains his or her chance to rock out in public is the same. Participants choose a song from a list housed in a book almost as thick as a dictionary. They write their selections on a slip of paper and deliver it to the KJ, who acts as an emcee and crowd motivator.

As the chosen song's soundtrack plays in the background, the lyrics are broadcast line by line on a TV screen that is often visible to the audience so they can sing along. Since karaoke is held in bars, singers' courage is often bolstered by alcohol - which means the chances of having to sit through someone shredding "I Will Always Love You" are equal (OK, maybe better than equal) to the chances of being treated to a suave rendition of "My Way."

And that, says Lansing Community College student and Wednesday-night Paradise regular Jennifer Sergeant, is karaoke's major appeal.

"It's fun," she says. "People know I'm not a major singer."

The first karaoke machine was developed by Inoue Daisuke 20 years ago in Kobe, Japan. The word is a combination of "karappo" and "okesutura," and means "empty orchestra." In Asia, karaoke is a favored way to entertain business clients with sometimes-dire results; it's not unheard of for a person who gives a poor performance to wake up the next morning without a job.

Luckily, in the United States, karaoke is not such a cutthroat affair. The only things to fear are a cracking voice, a little heckling and - perhaps - a throbbing hangover.

"Some people just can't muster the courage to sing," Parker says. "But I think it's safe to say that once you do it two or three times, you're unstoppable."

Contact Sarah Schmid at 267-1302 or sschmid@lsj.com.

Published 2/14/2002